Access Evaluation 2015 Virtually
Broadcasting live from Chicago, the Evaluation 2015 virtual conference offers 28 Presidential Strand and Plenary sessions over four days!
Evaluation 2015 brings together evaluators at all levels to learn from their peers and share successes and challenges with evaluators from across the globe. With multiple educational offerings, including more than 700 concurrent sessions, 200 posters, and informal birds of a feather and ignites presentations to partake in, Evaluation 2015 truly offers something for everyone.
New This Year — The American Evaluation Association (AEA) is bringing 28 sessions of Evaluation 2015 to your computer or electronic device. If you or your team is unable to join us in Chicago for the full conference, then register for the Evaluation 2015 virtual conference. Registration is free and provides you access toEvaluation 2015 sessions in the Presidential Strand, including all four plenary sessions focused on exemplary evaluation. Click here to view all sessions.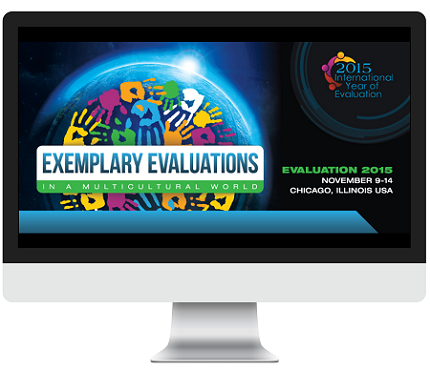 This is the first time AEA is offering a virtual component to our annual conference. The virtual conference will allow you to experience Evaluation 2015 and celebrate evaluation collaboration across the nation and the world.
Four day access to live video and audio streaming of selected Evaluation 2015 sessions
Ask questions to a live moderator
Network with your fellow virtual conference participants online
Save on international and national travel and hotel costs
Who Should Register
The Evaluation 2015 virtual conference is a perfect alternative if you are not able to join AEA in person for Evaluation 2015. This audience will include international evaluators, colleagues who are unable to attend the live conference, students looking to learn more about evaluation, or other evaluation professionals that can't participate in Chicago.
How to Register
To register for the virtual conference, visit the Evaluation 2015 virtual conference website and create an account (this account is not connected to your AEA member account). Once you have created an account, you will receive a confirmation email. When the conference launches, you will have access to the virtual conference sessions through this portal.
In order to ensure a smooth virtual conference experience, please make sure your device is ready by running a system check on your device before the virtual conference sessions begin.
If you have any questions about the virtual conference, please contact AEA at info@eval.org or
202.367.1166. If you experience any technical difficulties please contact Technical Support or call877.796.1325.